DNS Unlocker app inundates one's browser with excessive ads under the guise of providing web traffic filtering features, so get rid of this adware right away.
There is a fine line between legit and adware backed ecommerce. What is more, the average user may find it hard to tell the difference with the naked eye. It takes some system inspection and web page layout analysis to draw accurate conclusions in this regard. The criteria that matter the most are whether or not there's a new browser add-on or plugin that's modifying the look of visited sites, and whether identical or similar-looking ads are popping up across different domains. Speaking of DNS Unlocker program, it makes a consonant extension appear on the web service enhancements list for the browsers used on a computer, and miscellaneous items saying "Ads by DNSUnlocker" literally deluge every single page accessed via these browsers. It all appears to fit in the adware framework, and yet some further dissection of this code would make sense to better understand the essence and true motives of the application.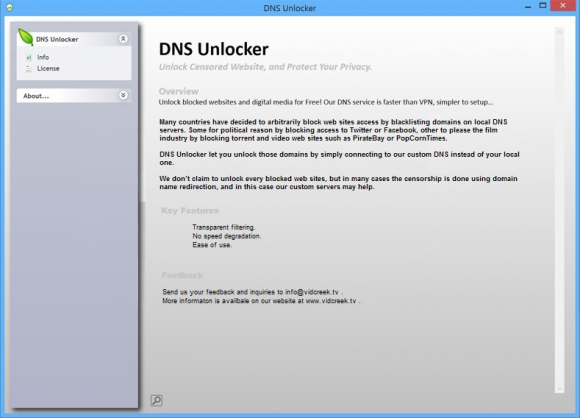 The developers of DNS Unlocker are allegedly driven by an unselfish aspiration to help some PC users access censored Internet content. The blocking that's supposed to be addressed is customer-specific, being originally caused by the location of one's DNS server. By simulating connection through the use of a custom server, this tool enables bypassing the filters, which basically sounds like great assistance. All of this would make a totally successful and popular startup if it weren't for the fact that the above-listed features are just the tip of the iceberg. Here is what DNS Unlocker actually does, though: it ends up on machines in a covert way and injects ads where inappropriate.

It is common knowledge that freeware cannot stay afloat unless it's ad-supported or promotes third-party services. This trait is being heavily taken advantage of as far as adware distribution goes. DNS Unlocker does not spread by encouraging potential clients to give its remarkable functionality a shot – instead, it accompanies other free products' installation. Some computer games, educational video creation tools and multimedia solutions go with this adware already built into their setup, therefore by agreeing to the terms of service for the former you also opt into the latter, often without even realizing it.
Ads by DNS Unlocker are generated by the aggressive browser helper object installed by the virus. It makes random chunks of text on websites appear all in capital letters and hyperlinked, with popups automatically showing up as you put your mouse pointer on those keywords. There will also be numerous banners and comparison shopping objects all over the place, regardless of the web page that's visited. Interstitial ads won't fail to get constantly triggered either. Stopping this frustrating commercial onslaught is manageable via ad hoc steps meant to thoroughly eliminate the potentially unwanted program.
DNS Unlocker virus automatic removal
All the other adware uninstall methods being worth a try, the cleanup using automatic security software guarantees a proven fix involving little user effort and a trouble-free procedure.
Download and install the featured security tool and launch an in-depth malware checkup by clicking Start Computer Scan buttonDownload Ads by DNS Unlocker remover
When the software returns a list of malicious and potentially unsafe items found on the PC, select Fix Threats in order to have the DNS Unlocker infection uninstalled from your machine. An additional virtue of this process is the elimination of other threats that may be active in the background.
Use Control Panel to uninstall DNS Unlocker adware
Go to Control Panel from Windows Start menu. If you are using Windows XP or Windows 8, proceed to Add or Remove Programs. If it's Windows Vista or Windows 7, Uninstall a program is the right option to click
Carefully examine the list for DNS Unlocker (possibly with product version indicated) or entries by unknown publisher that don't look trustworthy. Once spotted, select the Uninstall/Change option for such an item in order to complete the removal
Reset the compromised browser to its defaults
Despite the fact that this is a fairly radical fix, resetting the affected web browser is effective. However, be advised you will lose your personalized settings such as temporary Internet files, history, cookies, saved passwords, web form data, toolbars and add-ons. So proceed with caution, and if you're not sure – perform the cleanup using methods highlighted in the previous sections.
Reset Firefox to its original defaults
Open Firefox, expand the Help menu on the top of the window, and in the drop-down list pick Troubleshooting Information. Alternatively, simply type in 'about:support' (without quotes) in the Firefox omnibox and hit Enter.
Troubleshooting Information will open in a separate tab. Click the Refresh Firefox button as shown. Confirm, and you're done.
Reset Internet Explorer to its original defaults
Launch Internet Explorer and proceed to Tools/Gear icon – Internet Options.
Select the Advanced tab at the top and click Reset.
When IE comes up with the respective screen, read the warning carefully and, if sure, put a checkmark for Delete personal settings. Now click Reset.
Reset Google Chrome to its default values
Open your Chrome browser, click the Chrome menu icon to the upper right and select Settings on the list. Alternatively, type in 'chrome://settings' (without quotes) in the URL field.
Find the Show advanced settings… link on the tab that opened up.
Under Chrome's advanced settings, click the button that says Reset browser settings.
Be sure to read the information about the personal settings that will be lost if the transaction gets completed. Click Reset if it's fine with you.
Complete the DNS Unlocker removal process
Given the likely persistence of this adware sample, it's recommended to repeatedly check the machine for its components after the cleanup procedure has been performed. Rescan your system with trusted security suite to make sure DNS Unlocker ads virus extermination has been successful.