Although www-searching.com site looks appealing, it is actually a part of adware con, so the related virus should be avoided and eradicated if it's on a PC.
Some adware assaults are quite ordinary and forthright, involving a malicious web browser extension programmed to repeatedly reroute traffic to a single landing page. Others tend to be more complex than that, featuring a ramous network of interconnected sites and posing a bigger challenge to get rid of. The latter minority is represented by bugs like Search Module Plus. This malicious add-on configures the compatible browsers (Chrome, Firefox and Internet Explorer) to return www-searching.com every time the user opens them, moreover said URL is going to replace the defaults for online search, new tab as well as the error page. It also turns out that the website is nothing but a static hub designed to further distribute the intercepted traffic to other places like The Smart Search at thesmartsearch.net.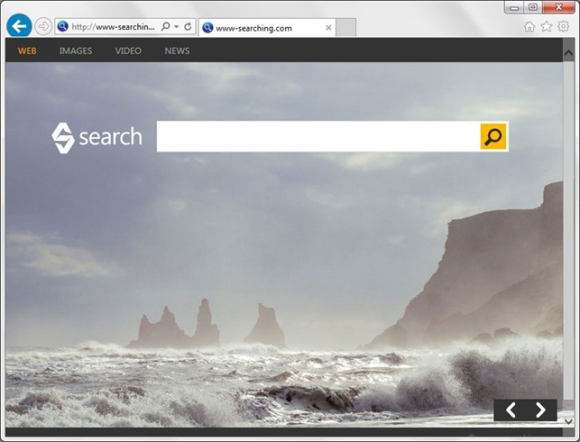 For this attack to be successfully pulled off, the corrupted software entity needs to get seeded into the host computer. This is the area where manipulative techniques come into play, for instance wrapping the bad installer inside a benign setup wizard. The individuals making and distributing adware are really fond of teaming up with freeware authors so that, when you install a program that costs you nothing, you also get the malicious item as an extra. Speaking of Search Module Plus and www-searching.com virus in particular, it is most frequently encountered in tandem with the following tools: LightMan Converter, YTDownloader, FastPlayerPro, TeamViewer, Windows Media Player, ShopperPro, and iWebar. The respective setup terms imply that by clicking Next you agree to set and keep www-searching.com as your default search and homepage. Users often times do not notice this condition and involuntarily sanction the infection to install.

The technical backing of this virus is the extension named Search Module or Search Module Plus. After the intrusion it instantly appears on the corresponding lists of providers in the affected browser. The reconfiguring activity performed by this add-on is a background process, but the outcome is more than noticeable since the totally wrong web pages will flood the victim's online cyber space. Again, that's www-searching.com, which then redirects any input query to thesmartsearch.net, a site with some heavy advertising between the lines. Whenever an attempt is made to restore the settings that are actually preferred, the wrong ones will be promptly reinstated by a process called SMWPUpd, which is an object that the virus adds to Windows Task Scheduler. In order for all of this hindrance and persistence to be bypassed when removing www-searching.com, a far-reaching effective tactic should be adopted.
Www-searching.com virus automatic removal
All the other adware uninstall methods being worth a try, the cleanup using automatic security software guarantees a proven fix involving little user effort and a trouble-free procedure.
Download and install the featured security tool and launch an in-depth malware checkup by clicking Start Computer Scan buttonDownload Www-searching.com remover
When the software returns a list of malicious and potentially unsafe items found on the PC, select Fix Threats in order to have the www-searching.com infection uninstalled from your machine. An additional virtue of this process is the elimination of other threats that may be active in the background.
Use Control Panel to uninstall Search Module Plus adware
Go to Control Panel from Windows Start menu. If you are using Windows XP or Windows 8, proceed to Add or Remove Programs. If it's Windows Vista or Windows 7, Uninstall a program is the right option to click
Carefully examine the list and find the entry for Search Module Plus. Once spotted, select the Uninstall/Change option for this item in order to complete the removal
Reset the compromised browser to its defaults
Despite the fact that this is a fairly radical fix, resetting the affected web browser is effective. However, be advised you will lose your personalized settings such as temporary Internet files, history, cookies, saved passwords, web form data, toolbars and add-ons. So proceed with caution, and if you're not sure – perform the cleanup using methods highlighted in the previous sections.
Reset Firefox to its original defaults
Open Firefox, expand the Help menu on the top of the window, and in the drop-down list pick Troubleshooting Information. Alternatively, simply type in 'about:support' (without quotes) in the Firefox omnibox and hit Enter.
Troubleshooting Information will open in a separate tab. Click the Refresh Firefox button as shown. Confirm, and you're done.
Reset Internet Explorer to its original defaults
Launch Internet Explorer and proceed to Tools/Gear icon – Internet Options.
Select the Advanced tab at the top and click Reset.
When IE comes up with the respective screen, read the warning carefully and, if sure, put a checkmark for Delete personal settings. Now click Reset.
Reset Google Chrome to its default values
Open your Chrome browser, click the Chrome menu icon to the upper right and select Settings on the list. Alternatively, type in 'chrome://settings' (without quotes) in the URL field.
Find the Show advanced settings… link on the tab that opened up.
Under Chrome's advanced settings, click the button that says Reset browser settings.
Be sure to read the information about the personal settings that will be lost if the transaction gets completed. Click Reset if it's fine with you.
Complete the www-searching.com removal process
Given the likely persistence of this adware sample, it's recommended to repeatedly check the machine for its components after the cleanup procedure has been performed. Rescan your system with trusted security suite to make sure www-searching.com virus extermination has been successful.