The post encompasses must-know information about the Get Windows 10 taskbar icon and provides tips on how to avoid security issues when completing the upgrade.
The much-spoken-of Microsoft Windows update is approaching, making the numerous aficionados of this operating system all over the world excited about the anticipations of a faster, safer and yet more user-friendly product. All of this heat is being further replenished by the official statements regarding the vendor's unprecedented move: Windows 10 is going to be free for existing customers running valid versions of Windows 7 Service Pack 1 (SP1) and Windows 8.1 on their desktop computers. Moreover, that isn't some trialware, beta or otherwise functionally restricted OS build whatsoever. The platform is declared to accommodate a highly intuitive interface and improved performance, plus the brand-new Cortana browser will replace the 'good old' Internet Explorer as a standalone component rather than a built-in feature that cannot be opted out of. The start of the upgrade is scheduled July 29, 2015. All those who qualify are advised to reserve their free license of the operating system beforehand.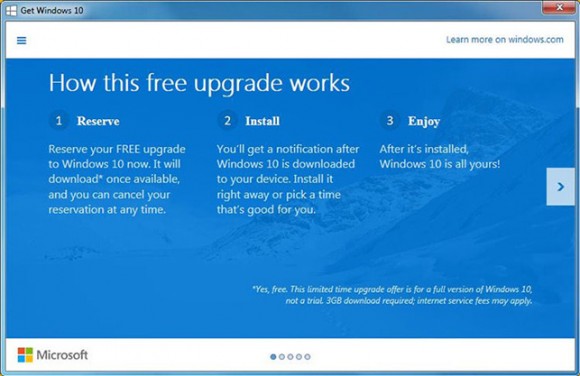 It's not necessarily from the IT news that many users actually learned about this initiative. Those whose system configuration meets the respective requirements have started encountering the Get Windows 10 icon in their system tray. Executable-wise, these changes are reflected as the GWX.exe and GWXUX.exe processes, which can be seen on the Task Manager entries list. Furthermore, a folder named 'GWX' appears under System32 directory. Just a quick disclaimer – all of these entities are safe, legitimate and generally nothing to worry about. When clicked on, the Get Windows 10 icon expands to a set of dialogs containing the description of main features and advantages of the upcoming upgrade.

Generally, the whole GWX story is good news for a large customer segment of the world's dominating operating system. There have been some minor concerns, however, that accompany this interaction with the end users. One of these has to do with the fact that the Get Windows 10 upgrade icon does not vanish even after the reservation has been completed. This isn't much of a problem, really, but some people don't admire redundant stuff in their taskbar.
Windows developers come up with GWX uninstalling method. Microsoft fails to mention the uninstalling is lasting for current session only. With any new reboot, the annoying messaging restores.
If you are OK to disable the icon and popup for current session only, kindly proceed with Option One.
Option One
Browse to your system tray and right-click
In the drop-down list, select Customize Notification icons
Now please spot GWX icon
Please set the opposite menu to Hide icons and notifications
To get rid of GWX for good, proceed with Option Two.
Option Two
Windows Updates menu allows to disable this entry. The guidance explains how to uninstall KB3035583. It does not affect other updates.
Please go to Windows Update.
Go through Windows Update main menu to Install Updates tab. It is typically at the left bottom corner.
In the Install updates menu, spot KB3035583. If the list is too long, sorting by name may facilitate your search.
Right-click KB3035583. Choose Uninstall in the drop-down list.
You will be invited to authorize your choice. Please click relevant approval button.
Reboot will enable the settings.
Option Three
This procedure repeats the steps of Option Two. The exception applies to step 4 only. Instead of choosing Uninstall, opt for Hide Updates.
The Step 4 thus reads as follows: Right-click KB3035583. Choose Hide Updates in the drop-down list.
Option Four
This method involves system registry editing.
Start with opening regedit.exe. Just copy-paste the file name into system search of Start menu. Click Enter.
In the System registry, go to the following string: HKEY_LOCAL_MACHINE\SOFTWARE\Policies\Microsoft\Windows\Gwx
If there is no such entry, please insert it manually.
Create new DWORD value in the section to the right from the above GWX key.
In the relevant columns, set Disable GWX as a name, with a value of 1.
Please note options three and four should be used in case the option two fails to remove GWX.
Last but not least, hereby we testify GWX is a legitimate application.
Actually, before reserving and deploying your free upgrade, it's strongly recommended to make sure you move clean into the transaction, that is, no malware should be on board the PC. It isn't clear at this point which current viruses are capable of exploiting the new platform environment, so do not ignore the option of detecting and eradicating unwanted code beforehand.
Computer diagnostics before upgrading to Windows 10
To enjoy malware-free experience with the upcoming operating system, consider going through the steps below:
Download and install the featured security tool and launch an in-depth malware checkup by clicking Start Computer Scan buttonDownload Get Windows 10 notification remover
If the antimalware software returns a list of malicious and potentially unsafe items found on the PC, select Fix Threats. Once the machine is clean, you are good to go with the update.