Learn the grounds for flagging the Fix My PC utility as a fake system optimizer and follow the instructions to remove this hoax from attacked computer.
There are PC programs out there which mimic certain features rather than provide the genuine declared functionality. The underground malware industry indulging in this type of misdemeanor is nearly as old as the Internet itself since it became pervasive, which is natural because there is a huge lure to design an application that looks like it does something that's in demand, but in fact only pretends to. What's the motivation? No one has cancelled license purchasing, and the scammers are trying to scare people into registering their counterfeit products – hence the name "scareware". This is precisely how the tool called Fix My PC works.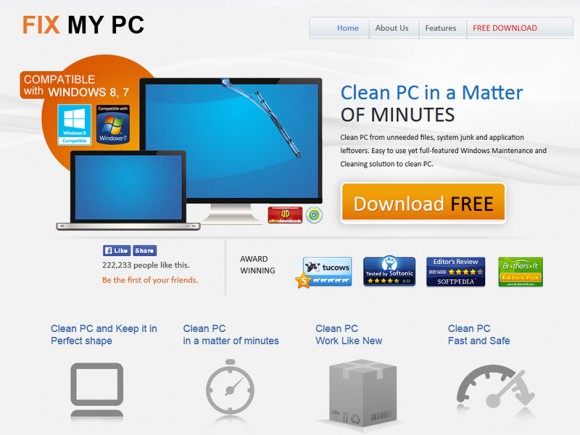 Formerly known as A1 PC Cleaner and hosted on the same domain (a1pccleaner.com), this piece of software is a bogus optimizer. It promises the moon while implementing most misguiding activity you can think of. Similarly to its above-mentioned forerunner, the Fix My PC rogue is promoted via a multiplex webwork of affiliated free apps which have the malicious installer hard-coded into their own setup. In fact, the Download button on the website advertising this utility doesn't even work, so the focus in distribution is obviously on bundling as a more blurred approach that allows for imperceptible intrusion.
The very moment Fix My PC gets inside a machine, it makes unapproved changes to the operating system's activity configuration. In particular, the malware adds its executable to the list of startup entries, which commands the OS to launch the bug whenever the PC is turned on. It automatically runs a system scan after boot-up, which is more of a pre-programmed animation, and returns results close to catastrophic. According to the scan report, your computer has serious performance issues, corrupted registry entries, numerous junk files, leftovers of uninstalled software, and Internet speed problems. To be yet more persuasive, the rogue also displays deceptive pop-up off and on, claiming that your PC may be at risk and this needs fixing as soon as possible. Of course and beyond all doubt, these alerts and problem detections after scanning are fabricated.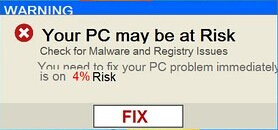 As a panacea for all of the reported system issues, Fix My PC states it will lend you a helping hand by automatically repairing everything that's broken. However, for this alleged assistance to take effect, the software must registered. This is the catch rogue optimization programs are all about: first they detect inexistent bugs and then forge the fix after you pay. Submitting that payment is therefore a bad idea. The right thing to do in this scenario is to uninstall Fix My PC/A1 PC Cleaner, which is, by the way, not easy. Scareware is tailored to prevent the standard removal techniques such as using the Control Panel, so you should resort to a more effective cleaning procedure.
Fix My PC malware automatic removal
Cleanup using automatic security software guarantees a proven fix involving little user effort and a trouble-free procedure.
Download and install the featured security tool and launch an in-depth malware checkup by clicking Start Computer Scan buttonDownload Fix My PC remover
When the software returns a list of malicious and potentially unsafe items found on the PC, select Fix Threats in order to have the Fix My PC app uninstalled from your machine. An additional virtue of this process is the elimination of other threats that may be active in the background.