Figuring out why the Cinema-Plus application is an adware and the methodology for removing it from a computer is the subject being reviewed in this guide.
It's not uncommon for adware infections to impact browsers in a way that web pages get displayed with ads that are not supposed to be there. Although the program called Cinema-Plus is installed by users as part of a new media player that's free of charge, its foremost goal has little to do with multimedia. This virus displays sponsored objects inside whatever website the victim visits. So learn what this infection is and how it influences the functioning of a machine it found itself on.
It's sort of naive to fully believe that after installing a random free application nowadays you will get precisely what's promised in the product description. The actual implication of "free", as far as software is concerned, has to have a commercial undertone. While some freeware developers out there can afford simply inserting advertisements into their app's GUI, others venture to cross the borderline of ethics and earn by distributing malware in the bundle. A utility known as Cinema-Plus, for instance, relies on the latter monetization model. People do not really download and install it as a standalone app; instead, it's just an extra item added to the installations of other solutions like media players or file downloaders.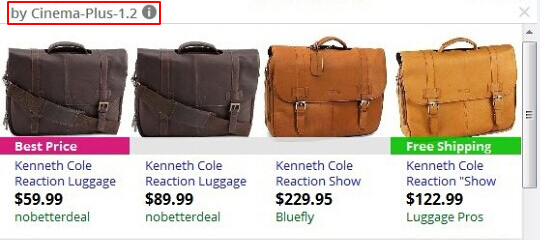 Once the unwelcome code gets thus dropped into a system, it materializes itself as a browser helper object such as plugin or extension. But unlike add-ons that are legit, this one indulges in disruption rather than assisting the user in some way. The Cinema-Plus adware is tailored to generate advertisement-related data within websites. These are pop-ups, ads in search results, interstitial pages, in-text links and price comparisons labeled "Ads by Cinema-Plus", "Brought by Cinema-Plus", etc. The visual objects triggered by this virus differ from the normal web ads in their on-computer nature. It means that the adverts generator is in fact an app residing on a PC, not an external provider that places objects into sites based on an agreed-upon presence of a certain script incorporated into the page's source code.
This adware is being gradually updated, with new versions going live once in a while. Consequently, some notoriously known variants are Cinema-Plus 1.2, 1.4, 1.7, and 1.8c. Not only does the virus modify web browsers' configuration on the affected machine, but it also does some personally identifiable information mining. In order to get accurate in the ad delivery, it collects data such as browsing history, so privacy violation is undoubtedly in place. The removal of most intrusive versions of Cinema-Plus adware is a matter of following a specific process outlined below. Once the threat gets wiped out, the annoying ads will discontinue showing up.
Cinema-Plus virus automatic removal
All the other adware uninstall methods being worth a try, the cleanup using automatic security software guarantees a proven fix involving little user effort and a trouble-free procedure.
Download and install the featured security tool and launch an in-depth malware checkup by clicking Start Computer Scan buttonDownload Cinema-Plus Ads remover
When the software returns a list of malicious and potentially unsafe items found on the PC, select Fix Threats in order to have the Ads by Cinema-Plus infection uninstalled from your machine. An additional virtue of this process is the elimination of other threats that may be active in the background.
Use Control Panel to uninstall Cinema-Plus adware
Go to Control Panel from Windows Start menu. If you are using Windows XP or Windows 8, proceed to Add or Remove Programs. If it's Windows Vista or Windows 7, Uninstall a program is the right option to click
Carefully examine the list for Cinema-Plus. Once it's found, select the Change/Remove / Uninstall/Change option in order to complete the uninstall
Reset the compromised browser to its defaults
Despite the fact that this is a fairly radical fix, resetting the affected web browser is effective. However, be advised you will lose your personalized settings such as temporary Internet files, history, cookies, saved passwords, web form data, toolbars and add-ons. So proceed with caution, and if you're not sure – perform the cleanup using methods highlighted in the previous sections.
Reset Firefox to its original defaults
Open Firefox, expand the Help menu on the top of the window, and in the drop-down list pick Troubleshooting Information. Alternatively, simply type in 'about:support' (without quotes) in the Firefox omnibox and hit Enter.
Troubleshooting Information will open in a separate tab. Click the Reset Firefox button as shown. You're now done.
Reset Internet Explorer to its original defaults
Launch Internet Explorer and proceed to Tools/Gear icon – Internet Options.
Select the Advanced tab at the top and click Reset.
When IE comes up with the respective screen, read the warning carefully and, if sure, put a checkmark for Delete personal settings. Now click Reset.
Reset Google Chrome to its default values
Open your Chrome browser, click the Chrome menu icon to the upper right and select Settings on the list. Alternatively, type in 'chrome://settings' (without quotes) in the URL field.
Find the Show advanced settings… link on the tab that opened up.
Under Chrome's advanced settings, click the button that says Reset browser settings.
Be sure to read the information about the personal settings that will be lost if the transaction gets completed. Click Reset if it's fine with you.
Complete the Ads by Cinema-Plus removal process
Given the likely persistence of this adware sample, it's recommended to repeatedly check the machine for its components after the cleanup procedure has been performed. Rescan your system with trusted security suite to make sure Cinema-Plus virus extermination has been successful.