System Restore, a rogue of the FakeSysDef Family which uses fake scareware tactics of having hard drive and system errors to scare those infected to purchase the rogue.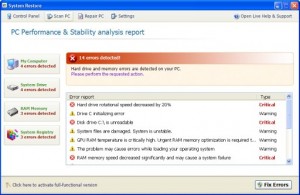 The System Restore rogue may also includes an MBR (Master Boot Record) Rootkit like TDL4, or  Sinowal used for profiting from search engine results hijackings even
after the user purchases the rogue.
Files and Locations:
%LOCAL_APPDATA%\<Random File Names>.exe
Note: %LOCAL_APPDATA% refers to:
For XP OS
<drive>:\Documents and Settings\<user>\Local
Settings\Application Data
For Vista/Win 7 OS's:
<Drive>:\Users\<User>\AppData\Local
The DataRestore Rogue can be removed with manually methods, however, as this rogue also includes Master Boot Record Rootkit infections, it is recommend to use our Malware Removal tool, VIPRE Antivirus.
You can download a free trial to remove the rogues of the rogues of the FakeSysDef family from your PC for no cost by clicking on the link below:
http://www.vipreantivirus.com/Antivirus-Trial/VIPRE-Antivirus
If you are unable to download and install our
malware removal tool because this has infected your computer and is not allowing you to install the program, you can use our VIPRE Rescue Disc here: