Security Protection is a rogue that is part of the Malware Protection family of rogues that uses fake alert and fake scan results as scare tactics to get the user to purchase the rogue.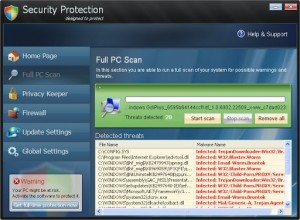 Files and Locations:
%COMMON_APPDATA%\defender.exe
Registry:
HKEY_CURRENT_USER\TWARE\MICROSOFT\WINDOWS\CURRENTVERSION\RUN\SECURITY PROTECTION\C:\Documents and SETTINGS\ALL USERS\APPLICATION DATA\Defender.exe /MI
How Do I Remove Security Protection from My PC?
When the rogue runs, it blocks the running of all other applications, except when in Safe Mode, one can run VIPRE to scan and clean with.
There are ways of removing this manually, but we recommend using our malware removal tool, VIPRE Antivirus. You can download a free trial that will remove Security Protection rogue from your PC for no cost by clicking on the link below:
http://www.vipreantivirus.com/Antivirus-Trial/VIPRE-Antivirus/
If you are unable to download and install our malware removal tool because Security Protection has infected your PC and is not allowing you to install the program, you can use our VIPRE Rescue Disc here: