Anti-Malware Lab is an upgraded version of PCSecurityGuardian.FakeVimes, a FakeVimes family variant. It claims to keep your system free of malware by scaring the end-user into purchasing "protection" through fake infection warnings.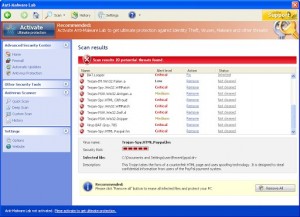 Below is a list of blogs related to FakeVimes that you can read on the GFI Labs Blog:
Holiday rogues available in searches for "free cards to print"
Pumpkin/jack-o-lantern stencils online SEO poisoning
Malware authors zero in on multiple sclerosis sufferers
Hacked sites used to redirect to malcode
FakeVimes rogue is lurking behind that Facebook message
How do I Remove Anti-Malware Lab From My PC?
There are ways of removing this manually, but we recommend using our malware removal tool, VIPRE Antivirus. You can download a free 30-day trial that will remove Anti-Malware Lab from your PC for no cost by clicking on the link below:
http://www.vipreantivirus.com/Antivirus-Trial/VIPRE-Antivirus/
If you are unable to download and install our malware removal tool because Anti-Malware Lab has infected your PC and is not allowing you to install the program, you can use our VIPRE Rescue Disc here: