Read a comprehensive overview of the Pirrit Suggestor adware to learn how it works and what must be done on the user's end to remove it from infected computer.
Online distribution, promotion and monetization of software being developers' predominant objective, different companies offer outsourced opportunities to get this nontrivial job done. While some of these firms treat the application author and the customer with equal respect, others disregard things like user experience and create overly intrusive products. Pirrit Suggestor, also known as PirritSuggestor, definitely inclines towards moneymaking at the expense of users' peace of mind.
This dubious browser helper object assists developers in gaining targeted traffic and application installs as per contractual relationship with software makers who seek rapid distribution. On the other hand, the people who have Pirrit Suggestor installed on their machines experience a harsh influx of redundant ads while searching stuff online and visiting random websites. The browser extension is tailored to analyze user preferences and interests in order to display the respective advertising links which are embedded in SERPs (search engine results pages) as well as web pages.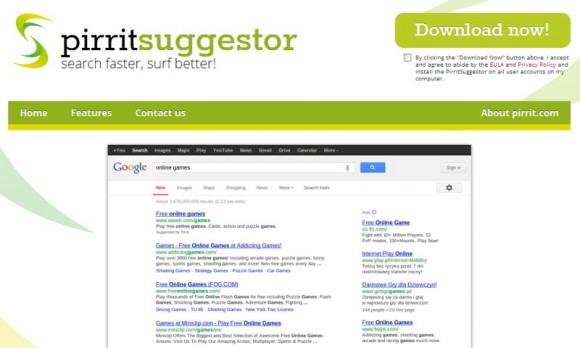 Read the rest of this entry »