It's a must-read article for the users who keep seeing popups that say Ads by SupraSavings, because there's a problem description and removal tips included.
Whereas advertisements on the Internet are certainly a convenience to users and a motivator to service providers as well as product manufacturers, the fringe between the normal and too much is really thin. Legitimate delivery of ads is within the reasonable limits in terms of intrusiveness, but for malicious applications like adware these regulations are an empty sound. The makers of these potentially unwanted programs do not take into account things like user experience and consent, which gets them flagged by security software across the board.
SupraSavings is but one of the many such unethical programs. Its malicious nature is exhibited all the way through its lifecycle, starting with installation peculiarities and being topped off by super-obnoxious activity on the compromised computer. It is claimed to be a tool tailored for showing information on hottest prices, discounts, coupons, and best deals on shopping sites; but its factual activity is way more than that, in the bad way.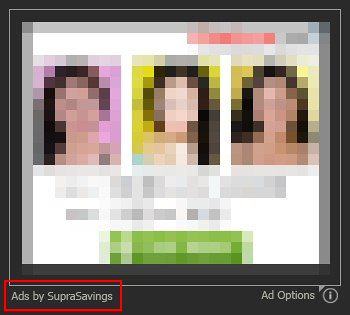 Read the rest of this entry »