Malware Protection Live app is delivered via freeware setup clients without users' approval, so it obviously does not belong on a PC and should be removed.
Software installation, regretfully, isn't always preceded by and based on the computer user's consent, though it certainly should be. This attribute constitutes a pretty unequivocal delineation between what's regular and what's anomalous, Malware Protection Live application belonging to the latter category. It is marketed as a free, lightweight security solution intended for real-time defense from Internet threats. Questions and reasonable doubts regarding this product's intensions arise against the background of the way it infiltrates into a computer. It isn't beyond the ordinary state of things when malicious objects are distributed through installers that are hosted on shady, semi-underground online resources. It's more of an offbeat situation, however, when junk applications are built into setup clients on services like Download.com, which is the case with Malware Protection Live.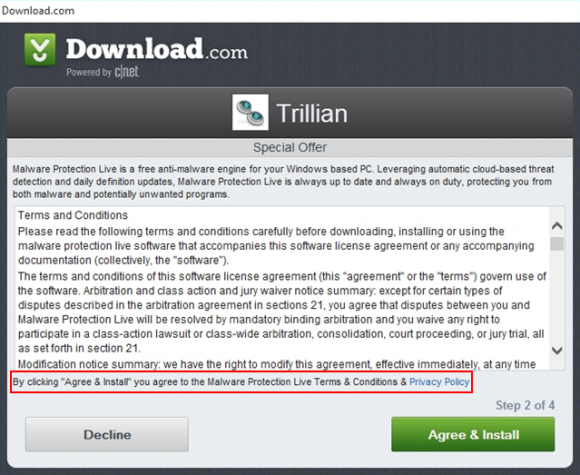 A fairly popular cross-platform instant messenger called Trillian, for instance, goes with the questionably safe bundle on CNET. What this means is users cannot install the IM tool unless they also opt into getting the purported antivirus. The mentions about this "special offer" aren't expressed intuitively enough along the way, so people are likely to just click the Agree & Install button without perusing what the dialog window actually says. This is similar to social engineering tricks whose effectiveness has sustained dozens of notorious large-scale malware propagation campaigns. Same here – Malware Protection Live sneaks into the system and starts pretending as though it were providing some sort of protection.

When this application is running, a new file called MalwareProtectionClient.exe gets executed. It is listed among the Task Manager processes and gets added to the Startup items. Also, a green checkmark icon appears in the system tray. In fact, when the customer tries to launch this product, what they get is a small red screen that praises the supposed functionality and continuous definition updates powered by cloud technology. No scan option or configuration toggling is available, which is strange. It seems like the app isn't performing any security functions at all.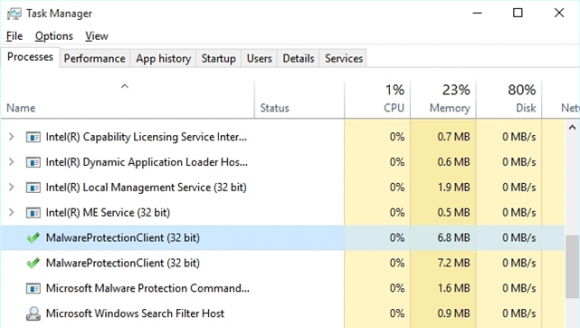 Another odd thing is that two MalwareProtectionClient.exe processes were concurrently running throughout the lab test, consuming quite a bit of system resources. To sum it all up, the verdicts pertaining to this open source tool are blurred. On the one hand, it doesn't appear to pose risk to the PC, nor has it been found to endanger the user's identity. On the other, its installations are very often not authorized, and it fulfills tasks that are barely clear. These uncertainties taken into consideration, it's best to get rid of Malware Protection Live junk.
Use Control Panel to uninstall Malware Protection Live
Go to Control Panel from Windows Start menu. If you are using Windows XP or Windows 8, proceed to Add or Remove Programs. If it's Windows Vista or Windows 7, Uninstall a program is the right option to click
Carefully examine the list for Malware Protection Live or entries by unknown publisher that don't look trustworthy. Once spotted, select the Uninstall/Change option for such an item in order to complete the removal
Malware Protection Live automatic removal
Whereas manual uninstall may not be efficient enough, the cleanup using automatic security software guarantees a proven fix involving little user effort and a trouble-free procedure.
Download and install the featured security tool and launch an in-depth malware checkup by clicking Start Computer Scan buttonDownload Malware Protection Live remover
When the software returns a list of malicious and potentially unsafe items found on the PC, select Fix Threats in order to have the MalwareProtectionClient.exe infection uninstalled from your machine. An additional virtue of this process is the elimination of other threats that may be active in the background.