Recurring behind-the-scenes connections to Best-Deals-Products.com during one's web surfing should be addressed using these malware removal instructions.
Some instances of adware assault result in a blatant upshot, where the targeted computer system exhibits apparent abnormality such as configuration-related malfunctioning of web browsers. In these cases, which are prevalent, the victim is bound to visit undesired sites in the course of repeating redirects that won't discontinue unless a specific security procedure is carried out. When compromised by the Best-Deals-Products.com virus, though, the side effects are more furtive than that. This domain name is mainly spotted on a computer if some privacy-focused application reports and blocks it as a tracking entity. Tailored to run in the background and remain clandestine, this infection is capable of seriously violating one's anonymity online and harvesting PID (personally identifiable data) during web browsing.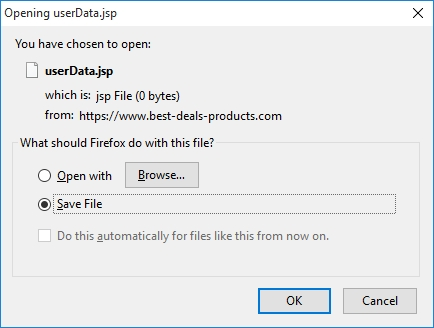 While said issue has been mostly reported by Firefox users, other web browsers are subject to this controversial influence as well. Interestingly enough, Best-Deals-Products.com appears to be affiliated with the ill-famed Superfish malware, which is known to spoof the certificates of SSL-protected domains by replacing those with its own self-signed CA. The biggest challenge about this story, security-wise, is that such a technique opens a loophole into the target machine by enabling MITM (man-in-the-middle) attacks. This hoax is initially intended to serve ads to users, but making systems vulnerable to personal data interception is a bad way of doing business.
Now that it's clear that Best-Deals-Products.com is involved in questionable e-marketing, let's look more in-depth into the symptoms. The infected users can receive popup messages like the one shown above, with a recommendation to open or save some odd .jsp (Java Server Pages) file. This happens when a random site is being opened, so there is obviously a great deal of interference with one's online routine. Furthermore, as it has been briefly touched upon, reputable add-ons like Privacy Badger or NoScript will be permanently blocking Best-Deals-Products.com as a spying object. All in all, aside from the possible MITM attacks and privacy violations, this malware also disrupts the user's web navigation, so it should be treated with a portion of good-old troubleshooting and removal.
Best-Deals-Products.com virus automatic removal
All the other adware uninstall methods being worth a try, the cleanup using automatic security software guarantees a proven fix involving little user effort and a trouble-free procedure.
Download and install the featured security tool and launch an in-depth malware checkup by clicking Start Computer Scan buttonDownload Best-Deals-Products.com remover
When the software returns a list of malicious and potentially unsafe items found on the PC, select Fix Threats in order to have the Best-Deals-Products.com infection uninstalled from your machine. An additional virtue of this process is the elimination of other threats that may be active in the background.
Use Control Panel to uninstall Best-Deals-Products.com adware
Go to Control Panel from Windows Start menu. If you are using Windows XP or Windows 8, proceed to Add or Remove Programs. If it's Windows Vista or Windows 7, Uninstall a program is the right option to click
Carefully examine the list for entries by unknown publisher that don't look trustworthy. Once spotted, select the Uninstall/Change option for such an item in order to complete the removal
Reset the compromised browser to its defaults
Despite the fact that this is a fairly radical fix, resetting the affected web browser is effective. However, be advised you will lose your personalized settings such as temporary Internet files, history, cookies, saved passwords, web form data, toolbars and add-ons. So proceed with caution, and if you're not sure – perform the cleanup using methods highlighted in the previous sections.
Reset Firefox to its original defaults
Open Firefox, expand the Help menu on the top of the window, and in the drop-down list pick Troubleshooting Information. Alternatively, simply type in 'about:support' (without quotes) in the Firefox omnibox and hit Enter.
Troubleshooting Information will open in a separate tab. Click the Refresh Firefox button as shown. Confirm, and you're done.
Reset Internet Explorer to its original defaults
Launch Internet Explorer and proceed to Tools/Gear icon – Internet Options.
Select the Advanced tab at the top and click Reset.
When IE comes up with the respective screen, read the warning carefully and, if sure, put a checkmark for Delete personal settings. Now click Reset.
Reset Google Chrome to its default values
Open your Chrome browser, click the Chrome menu icon to the upper right and select Settings on the list. Alternatively, type in 'chrome://settings' (without quotes) in the URL field.
Find the Show advanced settings… link on the tab that opened up.
Under Chrome's advanced settings, click the button that says Reset browser settings.
Be sure to read the information about the personal settings that will be lost if the transaction gets completed. Click Reset if it's fine with you.
Complete the Best-Deals-Products.com removal process
Given the likely persistence of this adware sample, it's recommended to repeatedly check the machine for its components after the cleanup procedure has been performed. Rescan your system with trusted security suite to make sure Best-Deals-Products.com virus extermination has been successful.