Essential Cleaner is a better version, if you may, of the an old rogue AV application called MS Removal Tool. You may read more about the said retired application here.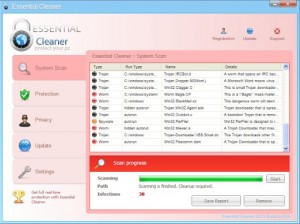 When executed, Essential Cleaner displays fake scan results to users in an attempt to make them believe that their systems are infected and that they need to purchase the product to clean them. One notable fact about this bogus application is that it uses the icon of one of Adobe's software products, Adobe Bridge, possibly to prevent arousing suspicion from users once it installs itself onto their systems.
We detect Essential Cleaner as FraudTool.Win32.FakeAV.a (v).
How Do I Remove Essential Cleaner from My PC?
There are ways of removing this manually, but we recommend using our malware removal tool, VIPRE Antivirus. You can download a free 30-day trial that will remove Antivirus Center from your PC for no cost by clicking on the link below:
http://www.vipreantivirus.com/Antivirus-Trial/VIPRE-Antivirus/
If you are unable to download and install our malware removal tool because Essential Cleaner has infected your PC and is not allowing you to install the program, you can use our VIPRE Rescue Disc here: