Windows Emergency System is not a Microsoft application, but a fake created by scammers designed to infect PC after PC in hopes of tricking people into buying the software.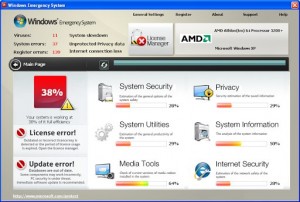 If your PC has been infected with Windows Emergency System, you may be wondering where you picked up such a nasty program.  Most likely it was downloaded from malicious advertisements on a webpage you visited, or when you clicked a link and landed on a random web page and the program began downloading without your consent.   Many times a rogue or fake program, such as Windows Emergency System, will show a fictitious warning stating that your PC is infected, if you click on the window it will immediately download the virus.  If you would have been running a good antivirus software, it would have blocked this virus from infecting you computer.
There is no doubt that having the Windows Emergency System virus on your PC is annoying as hell and a real pain in the you-know-what.  You can manually remove this infection from your computer, but we recommend using our malware removal tool, VIPRE Antivirus.  You can download a free 30 day trial of VIPRE which will allow you to remove this infection free of charge by clicking on the link below.
http://www.vipreantivirus.com/Antivirus-Trial/VIPRE-Antivirus/
If your PC is so jacked because of the infection and you can't download and install the malware removal tool, you can use our VIPRE Rescue Disc to clean your machine and install the tool in safe mode by following instructions on the page below: